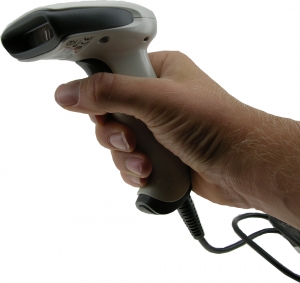 Handheld Barcode Scanners
Pauli Weighing Systems supplies the following handheld barcode scanners. Capable of increasing your throughput at the checkout counter, tracking and controlling medications at the pharmacy or hospital and managing inventory or precessing identification documents as well as scanning barcodes on packaging, labels and paper rolls, our scanners offer reliable data collection under the harshest conditions.
Cordless Scanners – PLS 4278
The innovative Symbol PLS4278 Bluetooth-enabled cordless barcode scanner delivers superior data capture anywhere in the workplace. Its multiline rastering pattern eliminates the need for exact aim, enabling scanning within a 50ft (15m) radius and allowing the user extra room to move. This laser handheld device excels in retail, healthcare or light industrial environments, boosting productivity and profitability.
The PLS 4278 handheld Barcode Scanner ensures the secure wireless transmission of data. It allows users to discover, provision and upgrade devices from a central remote location. It reads good and poor quality bar codes at similar ranges, reducing the need for extra scanning movement. It eliminates the need to pause between scans and its horizontal mounting makes it very adaptable to individual environments.
Handheld Barcode Scanners – PLS 2208
This small, lightweight scanner will help you to increase productivity at the retail point of sale and in the stockroom, allowing you to manage efficiently medications and control inventory in medical facilities, or help you to track assets and inventory. Whatever your application may be, the PLS 2208 offers a durable design to reduce downtime and keep maintenance costs to a minimum.